It's with a heart brimming with excitement that we share the thrilling news that has set the media landscape abuzz. We, at MKH Properties Limited, a subsidiary of the illustrious MKH Group, have embarked on a remarkable venture that's already shaping up to be an unforgettable chapter in our story. The celebrated voice-over actress, Stephanie Anene, has been unveiled as our brand's media representative, and the atmosphere is charged with an electric blend of anticipation and joy.
The ambiance was electric, charged with enthusiasm, as we gathered at our prestigious head office opposite the renowned VGC Estate in Lekki, Lagos State. Dr. Muibi Kehinde Hammed, our Chairman at MKH Group and a key figure at MKH Properties, stood center stage. With eloquence, he painted the profound significance of this alliance. As a brand committed to delivering value in real estate, we saw the need to communicate our essence with precision. This is where Stephanie Anene steps in — a compassionate touch to complement our industry trailblazing.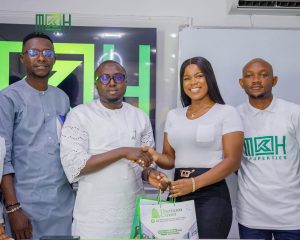 The event saw a congregation of luminaries representing the heart and soul of MKH Group. Bolarinde Tayo, our Group Executive Director, shared her anticipation, emphasizing the far-reaching implications of this partnership. Olukunle Idowu, our Group Managing Director, spoke of the synergy that will reshape industry standards. Iwejuo Ugochukwu, the driving force behind our media endeavors, showcased the collaborative spirit that birthed this partnership. Not to forget Ebitigha Adeniyi, Assistant General Manager of MKH Properties Ltd., a testament to the successful realization of this alliance.
his union extends beyond a mere association as Stephanie Anene joins our journey. It is a paradigm shift where real estate and entertainment unite. With every eye on this transformation, we recognize the immense potential that lies ahead. We stand poised on the threshold of a new era, ready to craft a narrative that resonates far and wide.
Stephanie Anene brings her unique voice to amplify our message. Our shared journey will redefine norms, break barriers, and craft a symphony that the world will remember. We're gearing up to create an experience that transcends expectations and leaves an indelible mark on the industry.
As the anticipation builds, we invite you to be part of this exhilarating journey. Stay tuned for the magic we're about to conjure — a blend of expertise, creativity, and passion that promises to set new benchmarks. Together, we'll script a tale of innovation, empowerment, and collaboration as Stephanie Anene joins our journey.